Aadi Guru Shankaracharya Lecture Program Begins at NDVSU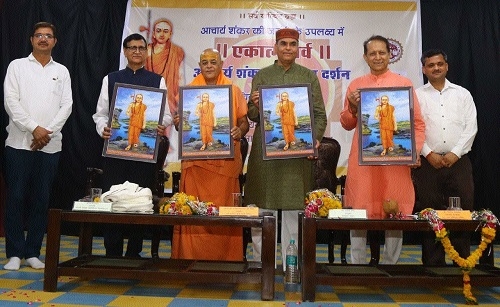 Staff reporter
"Aadi Guru Shankaracharya is not unknown to the world, but the new generation are still unaware of its significance. The responsibility has been taken by Chief Minister Shivraj Singh Chouhan for spreading the ideology of Aadi Guru Shankaracharya among all citizens across Madhya Pradesh Jan Abhiyan Parishad is appreciable. The campaign will certainly prove fruitful in introducing the ancient textbooks of rich Indian culture to the current generation and exploring a new window to know Indian philosophy," said Mahamandaleshwar Swami Akhileshwaran and Giri Maharaj, Chairman of the Board of Gau Samwardhan, Madhya Pradesh Swami Akhileshwaranand Giri was addressing the inaugural session of the District Level Lecture Program on Aadi Guru Shankaracharya Jayanti at the Auditorium of the University of Science Nanaji Deshmukh veterinarians, Sunday.
Speaking on the occasion, Rajiv Sharma, Divisional Commissioner, Shahdol, while Dr. Jitendra Jamdar, Vice President, Madhya Pradesh Jan Abhiyan Parishad, Dr. SP Tiwari, Vice Chancellor, Nanaji Deshmukh University of Veterinary Sciences, Ravi Bartender, Divisional Coordinator and Pradeep Tiwari, District Coordinator were special guests. In his address, Rajiv Sharma said that children and old people suffer from stress and Advaita (Hindu philosophy) is the only cure for stress. Aadi Guru Shankaracharya played a key role in the iteration of Sanatan Sanstruti. The Indian philosophy of Aadi Shankaracharya is effective in showing a new way to the world. Swami Vivekanand and Ramkrishna Paramhans were also the promoters of this culture of Aadi Shankaracharya.
Speaking on the occasion, Dr Jitendra Jamdar said that Shankaracharya Ji came to Omkareshwar in Madhya Pradesh at the age of 8 where he found his guru where he studied under Guru Govind Bhagwat Pad for the next 3 years and started Dharm Jagran nationwide. In the process, Aadi Shankaracharya established four Peeths and restored the unity of Sanatan Dharma.
NDVSU, VC, Dr SP Tiwari also shed light on the life of Aadi Guru Shankaracharya and emphasized Aadi Shankar's ideology to develop self-confidence to face the challenges of the 21st century.
Occasionally RS Sharma, Dean, Radhakrishna, Jugrajdhar Dwivedi, Uday Paranjpe, Shivnarayan Patel, Shivratan Mohanti and others were present.