Corella Payne's Wellness Book Featured at NYLA 2022 Annual Conference and Trade Show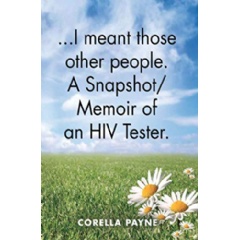 One of the biggest problems facing our nation right now is HIV and AIDS. As more and more people contract the disease and succumb to AIDS, the rate of infection increases rapidly. As such, awareness is of great importance. It's Corella Payne's trademark "…I meant those other people. A memory snapshot of an HIV tester.
"…I was talking about these other people. A Snapshot Memoir of an HIV Tester" promotes wider awareness of HIV/AIDS. Although it is a widespread health problem, many people are unaware of HIV and many HIV-positive patients around the world still suffer from discrimination. Readers of this book will learn that the HIV epidemic is not over as long as we live. The disease is not seasonal and must be stopped collectively.
In her book, Corella Payne points out that there is no seasonality for HIV/AIDS. The disease is no longer a conversation starter or at the forefront of social media, news or awareness. Despite this, most people all over the world continue to have unprotected sex. The epidemic is having a significant negative impact on individuals, families and communities.
Payne's health and wellness book is filled with crucial information from his conversations with HIV patients and their loved ones. In her roles as an HIV counsellor, tester and health educator, Payne has discovered that there is still a lot of fear, fierce opposition, ignorance and misinformation. She noted that many discussions of HIV disease touch on issues of race, gender, sexual orientation, socioeconomic status and religion.
Corella Payne hopes her book will spark new debate and inspire readers to reconsider how sexual activity affects one's well-being and that of others. Payne's "…I meant those other people. A Snapshot Memoir of an HIV Tester" displayed at ReadersMagnet Booth 32-34 for the NYLA 2022 Annual Conference and Trade Show November 3-4, in downtown Saratoga Springs at 522 Broadway, Saratoga Springs, NY 12866 Copies of the book are available on Amazon.
Author
Corella Payne has significant experience in the area of ​​HIV/AIDS as well as other health disparities that disproportionately impact underserved populations. She holds a master's degree in counselling/career education and in public health. She served in Quito, Ecuador as both a Peace Corps and Crisis Corps volunteer for four years. She has participated in mission trips to Guatemala, Honduras and Xpujil, Mexico with her church. She is proud to be a long-time community gardener. Ms. Payne believes that volunteer efforts, wherever they occur, traveling with purpose and writing, contribute to the betterment of individuals and communities everywhere.
Book Title | … I meant those other people. A memory snapshot of an HIV tester

Author | Corelle Payne

kind | Health

Editor | BookLocker.com Inc.

Publication date |October 15, 2018
This news content may be incorporated into any legitimate news gathering and publishing effort. Linking is allowed.
Press release distribution and press release distribution services provided by WebWire.