NMB will host a free virtual business conference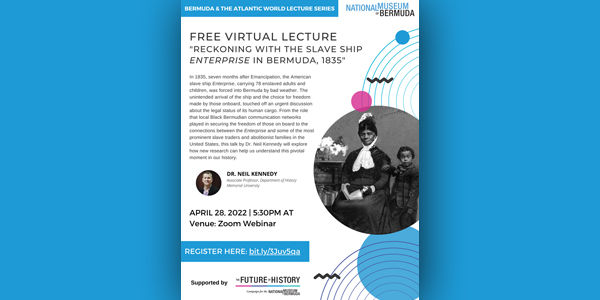 The National Museum of Bermuda [NMB] resumes its "Bermuda in the Atlantic World" lecture series with a free virtual lecture on Thursday, April 28 at 5:30 p.m.
A spokesperson said: "Account with the slave ship Enterprise in Bermuda, 1835" will be presented by Professor Dr Neil Kennedy and will share new research on the American slave ship Enterprise and its arrival in Bermuda.
"In February 1835, seven months after emancipation, the Enterprise, carrying 78 enslaved adults and children, was forced into Bermuda by bad weather. The Enterprise's involuntary arrival and the choice of freedom made by those on board have sparked an urgent discussion about the legal status of its human cargo.
"The talk will explore the role that local Black Bermuda communications networks played in ensuring the freedom of those on board and the connections between the Enterprise and some of the most prominent slave traders and abolitionist families in the United States.
"Dr. Neil Kennedy teaches and researches the history of the modern Atlantic world in the Department of History at Memorial University, Canada. He began coming to Bermuda as an archeology student in the early 1900s. 1990 and has worked with the National Museum of Bermuda and the Bermuda National Trust on a variety of projects.
Executive Director Elena Strong said, "The free lecture series on Bermuda and the Atlantic World is one of the many ways the National Museum provides opportunities to learn more about Bermuda's past. It explores the connections and forces across the Atlantic world that helped shape Bermuda as we know it today. I encourage everyone to sign up to learn more about the local and global impact of the Enterprise's arrival in Bermuda.
The spokesperson said: "Previous lectures in the series include 'The Early Atlantic Age [1250-1609]: Why and how did we get here?' and "Building a Maritime Community and a Maritime State: Rapid Settlement and Economic Growth" [1609-1800]' presented by Dr Clarence Maxwell and 'Pushing the Boundaries of Freedom' presented by Dr Kristy Warren. To watch previous conferences, go here.
"To register for 'Reckoning with the slave ship Enterprise in Bermuda, 1835', go here.
"The NMB's lecture series and educational programs on Bermuda and the Atlantic world are supported by The Future of History campaign. NMB seeks to raise at least $8.5 million to support education, expansion, and institutional stability. Learn more here."

Learn more about
Category: All, History