Ocean Currents Horseshoe Crab Conference May 19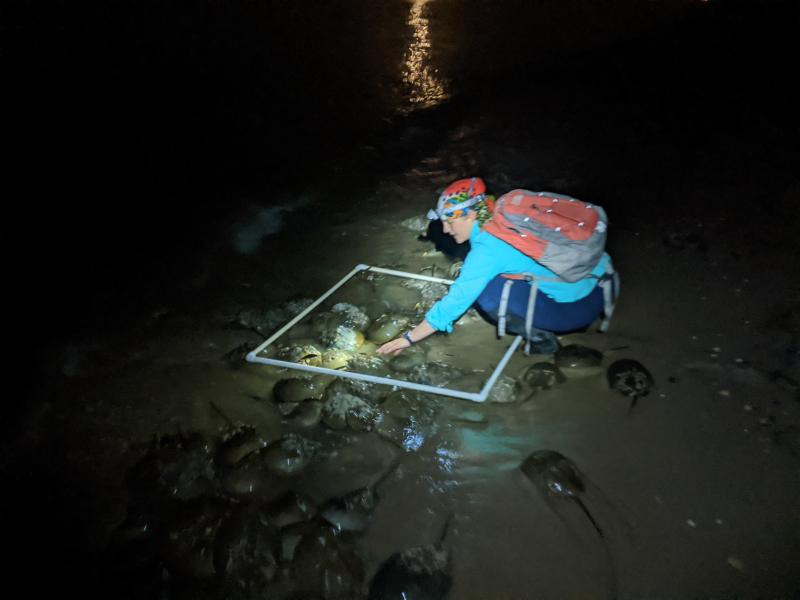 In the middle of the night, during evening high tide and around the new and full moon in May and June, Kate Fleming of Delaware Sea Grant is at Big Stone Beach in Milford conducting spawning surveys for horseshoe crabs .
Along with a group of community science volunteers, Fleming, coastal ecologist for Delaware Sea Grant, conducts spawning surveys to determine the spawning ratio of male and female horseshoe crabs.
"It's important that there are multiple males on the beach for each female to ensure that any eggs she lays can be fertilized," Fleming said. "Science shows that sometimes males who have failed to bond with a female still manage to fertilize the majority of eggs in a nest. It is therefore important that there are many males on the beach for every female on the beach, and this is what we seek to document for fisheries managers through spawning surveys.
Spawning records, as well as the importance of horseshoe crabs overall, will be the subject of Fleming's lecture on ocean currents, "Why and How We Count Horseshoe Crabs", to be held in person from 7 p.m. to 9 p.m., Thursday, May 19. at UD's Hugh R. Sharp campus in Lewes and streamed live on Zoom.
This is the first lecture in the 2022 Ocean Currents Lecture Series sponsored by UD's College of Earth, Ocean and Environment and Delaware Sea Grant. All events are free and open to the public, with in-depth presentations of the interesting and impactful work and research of faculty and staff.
In addition to Big Stone Beach, the Delaware Bayshore has approximately two dozen horseshoe crab survey sites, with a number of collaborating organizations coming together to conduct the spawn surveys. This data collected across the region is provided to fisheries managers who are responsible for setting harvest limits for this species.
Fleming said horseshoe crabs are an interesting marine resource that is both ecologically important and beneficial to humans through several uses.
"Horseshoe crab eggs are an important prey resource for our species-at-risk shorebirds that visit our beaches each spring," Fleming said. "Migratory shorebirds like semipalmated sandpipers, sanderlings, and the federally threatened red knot all feed on horseshoe crab eggs."
Horseshoe crabs are important as a bait resource. Local fisheries use horseshoe crabs to attract American eel and whelk.
The biomedical industry also uses horseshoe crabs. Horseshoe crab blood has properties that allow experts to isolate bacteria. Medical industry professionals use the Limulus Amebocyte Lysate Test to assess the safety of medical devices.
"Things like vaccines and pharmaceutical injectables and surgical implants, they're all tested with horseshoe crab blood to make sure they're safe," Fleming said. "There are a lot of different benefits of horseshoe crabs and a number of factors that pull their populations, and that's why they're being closely managed."
The Ocean Currents Lecture Series will feature University of Delaware and Delaware Sea Grant faculty and staff on Thursday evenings every two weeks during the summer, beginning at 7 p.m. and lasting approximately one hour. Speakers will present their research and expertise around topics in environmental science that have daily impacts on everyone.
To register for Fleming's talk and all future conferences on ocean currents, go to ud.alumniq.com/index.cfm/events:register/home/eventId/8273.