Professor Sultana N Nahar of The Ohio State University lectures at NIT Srinagar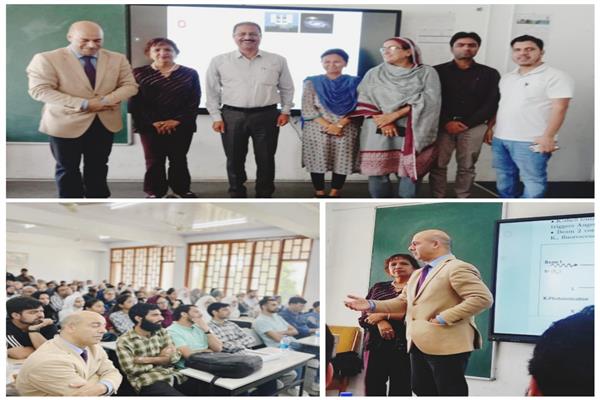 Srinagar, 20 Sep (KNS): As part of the physics lecture series "Beyond Classroom Lecture Series", Professor Sultana N. Nahar of Ohio State University USA gave her first lecture on Tuesday on "X-ray spectroscopy for biomedical applications". at the National Institute of Technology (NIT) in Srinagar.
The conference was organized by the PG, Department of Physics, NIT Srinagar to introduce students to X-ray spectroscopy for biomedical applications in collaboration with the Department of Chemistry and neighboring UG colleges.
During the inauguration of the conference, the Director of NIT Srinagar, Professor (Dr) Rakesh Sehgal said that it was a proud moment for NIT Srinagar to welcome such an eminent person to the campus, that one also with whom we have a ten-year-old relationship.
"The conference was designed to expose our students and students from other colleges to ongoing research and career opportunities," he said.
Professor Sehgal praised the role of the PG Physics Department and pledged his support for such initiatives in the future.
The Institute's Registrar, Prof. Syed Kaiser Bukhari, said this series of lectures will benefit students and help them explore more options in the field of science and technology.
"Such conferences would greatly help students to develop their expertise and specialization in their respective fields. This would be of great importance for our R&D programs," Prof Bukhari said.
In her keynote address, Professor Sultana N. Nahar delivered her lecture on "X-ray Spectroscopy for Biomedical Applications".
She said this area of ​​research has a direct link to medical applications such as cancer treatment.
Professor Sultana also shared his inspiring academic and professional background with the students and covered many aspects of spectroscopy and its applications in various branches of medical physics.
She said there is no shortcut to success and one can only achieve one's goal through hard work and dedication.
Professor Sultana also coordinates the Public Diplomacy Grant Program at the U.S. Mission in India. She got her doctorate. graduated from Ohio State University, USA, and discussed various Indo-American programs.
The head of the physics department, Prof. MA Shah, said professionals and academics provide a unique opportunity to leverage their knowledge for human services. He had invited nearby undergraduate colleges and their faculty.
Dr. Shah also said that in the future, the department would organize such lectures for the benefit of students to showcase their research and career opportunities.
A formal vote of thanks was presented by Professor Seemin Rubab. She expressed her gratitude to the guest expert and all the participants for making the event a success.
Many college and university faculties have joined us including Dr. Rubia (CUK), Dr. Qudsia (Women's College MA Road), Dr. Abdia (GDC) Anantnag), Ms. R. Sultana (School Education) , Dr. Mehraj-ud -din Shah (Pulwama Women's College), etc.
Finally, visiting faculties from different colleges in this region were recognized for their efforts to find their respective students and joined in the event.
The packed room had a Q&A session and a panel discussion with the guest on various US initiatives for Indian students. (KNS)