Responses to Refugee Issues", student talk presented by Sarah Damhof ('22) – Luther College Chips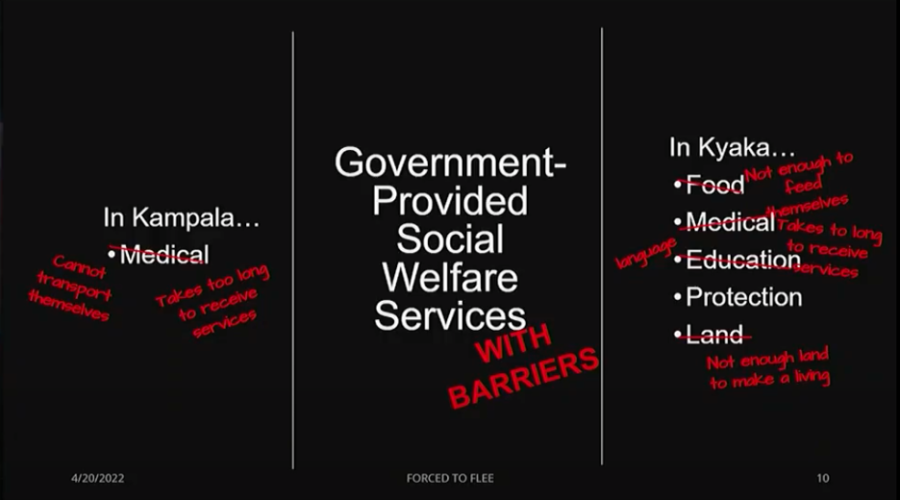 The United Nations estimates that the world currently has 26.4 million refugees, around half of whom are under the age of 18. This global refugee crisis, where people are forced to flee their homes and lose access to basic rights such as education, health care and employment, continues to worsen as political unrest moves the lives of civilians. A student of Luther, Sarah Damhof ('22), used her time to educate others about the implications of the refugee crisis. Damhof, a double major in international studies and political science, presented "Forced to Flee: Responses to Refugee Issues" on April 20 at Olin 102. The talk and accompanying presentation were the end products of the main seminar paper from Damhof and the research she conducted in Uganda during the fall 2021 semester.
The Damhof conference provided an overview of the global movement of refugees and information on the main countries of origin of refugees. She presented statistics from the Office of the United Nations High Commissioner for Refugees (UNHCR), the Ugandan government, regarding the impact of refugee-focused programs in Uganda, and also included an overview of her research. In total, she spent a month researching, including two weeks in urban areas of Kampala, the Ugandan capital, and two weeks in the Kyaka II refugee camp in the Kyegegwa region. Damhof's research focused on comparing the experiences of refugees in multiple settings and noted that individuals and their governments bear responsibility for addressing the global refugee crisis – or risk suffering its consequences.
"They are humans," Damhof said. "These are people who have needs and wants and desires, and a lot of their needs go unmet. My goal in researching them was to research or develop a solution to at least improve their situation a little.
Damhof's inspiration for research came from previous courses on refugee issues. She said she has taken many courses focused on global development and has traced her passion for the subject to the people she grew up with and her experiences in Luther's international studies department.
"[In my] Introductory International Studies Course I first started to familiarize myself with some of the events and situations that are happening in Africa," Damhof said. "Also, I grew up in St. Cloud, Minnesota, which has a very large population of Somali refugees, so I've always been familiar with the subject of refugees."
Students in Luther's International Studies department have the opportunity to turn their seminar papers into an alternative form of public scholarship, and attendee Lydia Wilkie ('23) thought Sarah's decision to turn her seminar paper public lecture seminar was effective in capturing attention. students who have a major or minor outside of international studies.
""[Damhof] I really wanted to do something more than just a podcast or just a slideshow," Wilkie said. "She wanted to do something bigger, because she was so passionate and wanted to share her experiences. I think it's important that we all get involved [each other's work] and not just see [the work of our own department]."
The conference ended with a focus on the importance of treating all human beings fairly and ways in which members of the Luther and Decorah community can make a difference regarding refugee issues. Damhof told attendees they could call on members of Congress or other elected officials to support immigrant-friendly policies, or volunteer and donate to local and international organizations. Reflecting on the conference as a whole, Payton Lott ('22) felt that Damhof's research and findings touched him.
"Thanks to the conference, I feel much better informed about many issues [relating to the refugee crisis]"Lott said. "I liked that [Damhof] presented tangible solutions to the problems that many refugees face prior to resettlement.