tara sharma saluja: Tara Sharma Saluja and Anupam Mittal publish a book on Down syndrome | Cinema News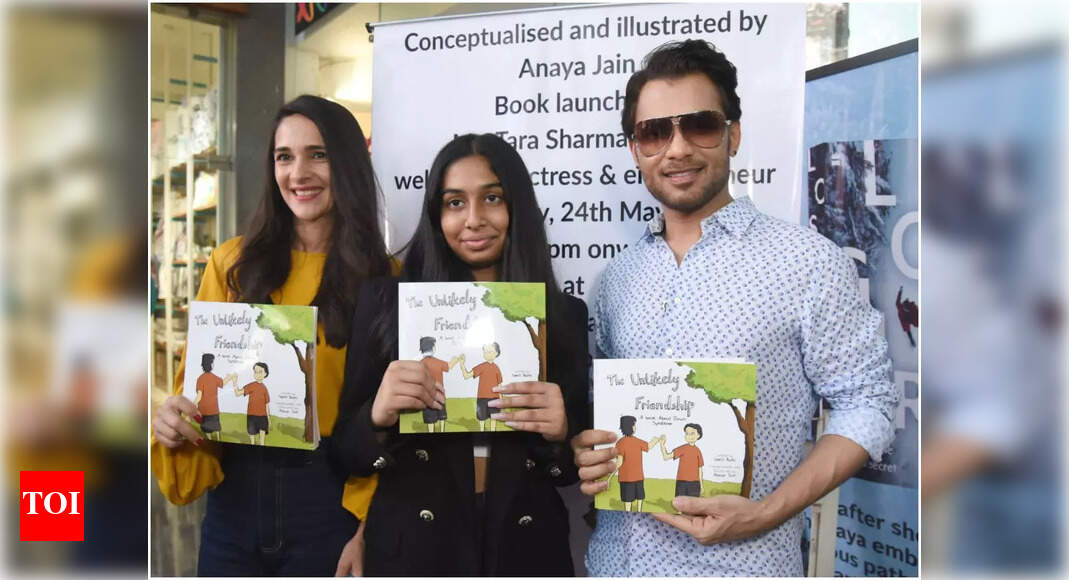 It was an interesting afternoon at the Title Waves Bookstore in Bandra recently when a 15-year-old student unveiled her book on Down Syndrome, to raise awareness about it. For Anaya Jain, who conceptualized and illustrated her book, it meant a lot that her family, friends and teachers were there that day. The book release was directed by actress Tara Sharma Saluja, "Shark Tank" investor and judge Anupam Mittal, Shailesh Lodha, Aakanksha Kedia from the Jai Vakeel Foundation as well as the principal of Anaya's school, and many book lovers.
"The goal is to make children with disabilities feel more included in today's society"
As those in attendance discussed the importance of inclusivity in society, Anaya shared how her book was a touching story about Aryan, a child with Down syndrome who struggles to fit in at his new school. He tries to make friends and tries out for the soccer team, but no one accepts him. Little does he know that he will soon form the most unlikely friendship because of his love for football. The author revealed that she wants to educate the next generation about it by making sure they know how to treat sufferers in the same way. She said, "I wanted to use my art to create a children's book focusing on the genetic condition of Down syndrome because there isn't a lot of awareness about it. The idea behind the book is to help educate the next generation and not only make children aware of these disabilities, but also be empathetic towards them. The aim is to make children with disabilities feel more included in today's society. An inclusive society is one in which everyone is treated equally and has the tools they need to make decisions and participate in society, regardless of color, gender, sexuality, age or his handicap.
Sport is often a huge leveler and tool to enable inclusion: Tara Sharma Saluja
Speaking at the event, Tara Sharma Saluja also added her thoughts. She said: "Sport is often a huge leveler and a tool to enable inclusion. Our children are passionate about football and I often observe that they make so many friends playing together. Children today are in many ways more empathetic and have a better understanding of special needs etc. because they are more aware than before, thanks to books like this. Every child is a star. This message comes through beautifully in Anaya's beautiful illustrations and Smriti's simple, good writing. Wonderful achievement to have conceptualized this at such a young age, a big thumbs up and I am honored to launch this lovely little book.