The Koshal Lecture Series supports speaking engagements to promote a comprehensive understanding of India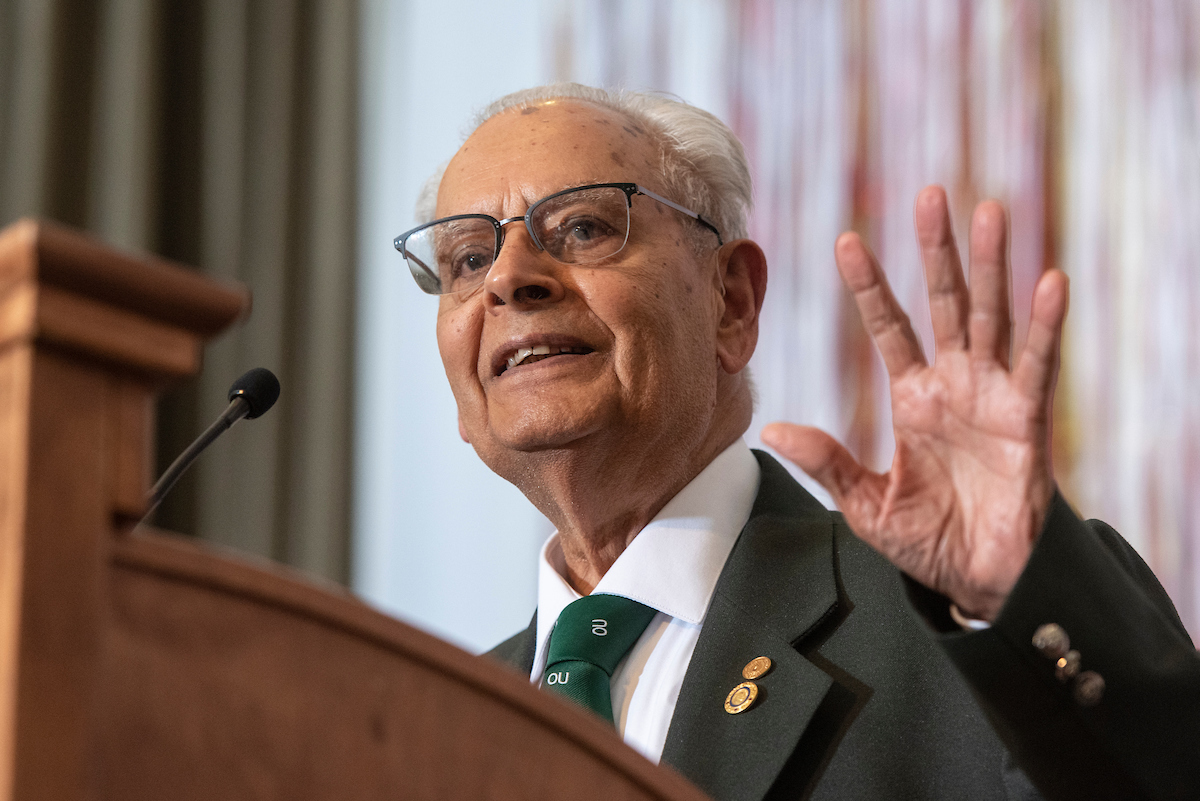 Hannah Ruhoff/Ohio University
Dr. Rajindar K. Koshal
Funding to promote comprehensive understanding of Indian culture is now available to the OHIO community through the Professors Rajindar and Manjulika Koshal Lecture Series Support Fund.
Faculty, administrative staff, and student groups from all Ohio University campuses are eligible to apply for Koshal Lecture Series funds up to $1,000 per lecture to cover speaker fees and other arrangements, such as travel and accommodation. Up to two conferences will be funded each year.
Guest speakers will share their expertise on a topic related to Indian culture, economy, history, dance, music, philosophy, medicine, science or politics that will further a better understanding of India at Ohio University.
Dr. Rajindar K. Koshal, professor emeritus of economics at Ohio University in the College of Arts and Sciences, and Dr. Manjulika Koshal, professor emeritus at Ohio University, are long-time members dates from the communities of OHIO and Athens. They have shared their academic expertise with the University through various capacities since 1965. Rajindar and Manjulika Koshal are committed to sharing the culture and vibrancy of India with Southeast Ohio through the Friends of India, which was established in 1986 alongside faculty, students and the community. members who wished to develop a better understanding between the two largest democracies, India and the United States.
It is from this legacy of strong relationships that the endowment of Professors Rajindar and Manjulika Koshal's lecture series was created. The Koshal Lecture Series aims to enrich the academic community by foster opportunities to bring engaging speakers to campus to enhance cultural understanding and knowledge related to India.
"Dr. Stanley Williams, one of my former EMBA students, generously donated $50,000 in 2012 to create an endowment in my name and many other alumni and family members have also contributed since. », said Raj Koshal. "The Koshal Lecture Series, which is funded by the endowment and named after Manjulika and myself, will bring renowned speakers from around the world to Ohio University to provide diverse perspectives and ideas on Indian topics for years to come; it is a humble legacy that we will leave."
"The opportunities and support to engage in discussions about India will bring a wealth of knowledge to OHIO and the region. Our university is culturally vibrant and diverse, and through these incredible networks, we all have wonderful opportunities to "expanding our global knowledge and outlook. We are grateful for the generosity of our alumni community as well as Professors Rajindar and Manjulika Koshal to help the academic community better understand and appreciate India-related topics," said said Ji-Yeung Jang, acting executive director of Global Affairs.
The inaugural Koshal Keynote Lecture took place during International Education Week in 2019 and was funded by the Koshal Lecture Series Endowment. It was delivered by Professor Bhanu Kapil, a British-Indian writer and poet, and was titled "Notes for the Future Before It Arrived: Power Coming from Abroad".
The call for applications for the Koshal Lecture Series is available at https://www.ohio.edu/oga/koshal-lecture-series. Applications are reviewed on a rolling basis. Contact the Office of Global Affairs at [email protected] with questions regarding Professors Rajindar and Manjulika Koshal's lecture series and/or submitting proposals.