UHart program will examine Zora Neale Hurston's work with Niece's talk – We-Ha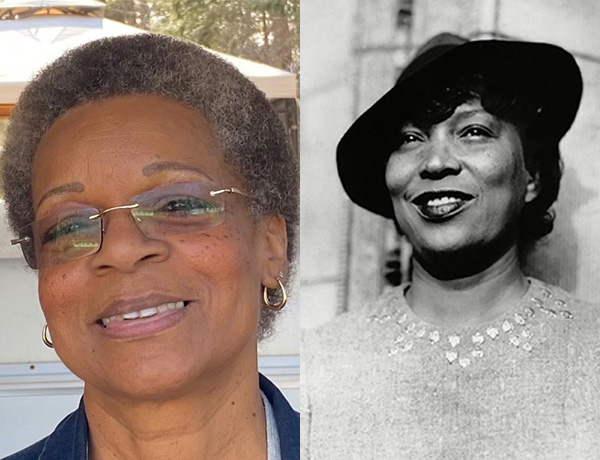 The work of an influential African-American actor will be discussed at a lecture at the University of Hartford in West Hartford.
Submitted
Renowned educator and historian Lucy Anne Hurston, whose late aunt was one of the most influential writers of 20th-century African-American literature, will present a lecture at the University of Hartford titled "The Experiences of Zora Neale Hurston: The Complexities and Intricacies of Race."
The highly anticipated program is open to the public and will be held on campus at the Wilde Auditorium (and streamed on Zoom) on October 11 at 6 p.m. Register to attend online or in person at hartford.edu/hurston. In addition to sharing stories and insights, Lucy Anne Hurston is also generously donating several signed first edition copies of some of her aunt's books to be added to UHart's Harrison Libraries collection.
The presentation is sponsored by Rogow's Distinguished Guest Speaker Program in conjunction with the school's Office of Diversity, Equity, and Community Engagement and its annual DEI Lecture Series.
Lucy Anne Hurston will also speak in a series for the College of Presidents of UHart (the lifelong learning arm of the University) at the Harrison Libraries on October 12 and 19 at 10:30 a.m. to register, visit hartford.edu/presidentscollege.
Many experts argue that what Zora Neale Hurston wrote about race a century ago is still extremely relevant today. A fiction writer and ethnographer who lived from 1891 to 1960, she confronted the injustices of her time, was closely associated with the Harlem Renaissance, and is said to have influenced writers such as Ralph Ellison, Toni Morrison, and Alice Walker. His published work includes the novel "Their Eyes Beheld God", books on African-American folklore, short stories and plays, and an autobiography.
In her lecture, Lucy Anne Hurston will use her aunt's work as a way to connect movements regarding racial inequality and discrimination of the past with issues in American society today. She will explore how to challenge it today, in hopes of a more equitable and inclusive future.
"It's a wonderful opportunity to broaden the knowledge of Zora's work," says Lucy Anne Hurston. "In some ways, the world is starting to catch up with Zora in her thinking and attitudes about racial inequality, discrimination, and the African-American experience."
Her knowledge of the life and work of Zora Neale Hurston is based on years of research, and she is committed to sharing it with all who are interested. This is her first time talking to UHart. However, Lucy Anne Hurston already feels a strong connection to the school as a resident of Hartford County and a member of Zeta Phi Beta, a historically African-American sorority of which her aunt was a member and which has a chapter at UHart.
Christine Grant, UHart's assistant vice president for diversity, equity, and community engagement, says hosting the speaker series allows students, faculty, and staff to deepen their knowledge, raise awareness, inspire dialogue, and shape how diversity, equity, and inclusion are promoted on campus and in the community. The theme of this year's lecture series is "Celebrating Literary Voices to Create an Inclusive Culture".
"This conference will provide a springboard and a guide to help us think beyond who and what we are. The lived and emotional experiences found in literature help engage readers with stories and themes such as race and society that affect everyone," says Grant.
"We are very fortunate to be able to bring Lucy Anne Hurston to campus," adds English professor Michele Troy, of Hillyer College at UHart and Presidents' College. "As well as being the niece of a groundbreaking 20th century author, she is a sociologist and teacher in her own right who can help us better find the Zora Neale Hurston we may not know, and understand why and how his aunt's writings might speak to our own charged cultural and political moment.
For more information, visit hartford.edu.
Do you like what you see here? Click here to subscribe to the We-Ha newsletter so you'll always be up to date with what's going on in West Hartford! VSClick the blue button below to become a supporter of We-Ha.com and our efforts to continue producing quality journalism.