As a former director of the Danville Historical Society, I was offered the opportunity to review the recently published book West Danville, Vermont Then and Now, 1781-2021. This project spanned eight years and readers and historians will find it invaluable.
It took some time to read the 32 chapters and study the photographs that bring our local history to life. The writers seem to have left no stone unturned, uncovering stories of people, places, and events that I have heard whispered about during our family's 42 years of residence in Danville.
Even though West Danville is the focus of the book, it also covers Danville's history. While reading, I pulled out my copy of Village in the Hills by Susannah Clifford. They're a good pair for understanding our history, but West Danville's book surpasses the first in size as well as depth of information.
The editorial board, consisting of Jane Bolton Brown, Patty Houghton Conly, and Dorothy "Dot" Ayer Larrabee, met during the research and writing period at the Danville Historical Society. Jane Hastings Larrabee, although she did not choose to write, provided access to photos and historical information collected by her family, owners of the Hastings store in West Danville since 1913.
"It's very difficult to determine who wrote what," said Jane Brown. "The three of us collaborated on every chapter."
The team had full access to the Danville Historical Society collection, but they certainly didn't provide all the resources. All the sources they have drawn on are noted at the bottom of each page, allowing readers to do further research on their own. The meticulous index finger in the back will also help. I experimented with an obscure name found in the text and sure enough the index included the correct page. Hastings Store tops the number of entries in the index, with 38 ratings.
Photographs and other image sources, including maps and advertisements, are also identified. Some of the most striking images came from the company's collection of Harold E. Hatch glass plate negatives. Hatch's grandson Kevin Ayer donated his entire collection. Also pictured is Elgin Gates, a local glass plate photographer from North Danville, courtesy of John Myrick. These original images enhance and add depth to the text. Randee Leightcap, an employee of the company, volunteered many hours of her time to clean up all the images in the book. This included attempting to replicate the same type of fonts used in the advertisements, keeping them as close to the original typesetting as possible while making them easy to read.
Even though the book was a team effort, it holds together as one voice. According to Patty, it was the result of advice from an experienced copywriter, Linda Bishop. She blended the different writing skills into a cohesive narrative. In some cases, this required rearranging text and the position of chapters to smooth the flow. Linda's high standards were key to achieving a professional result. Ultimately, the final layout and design was done by another experienced designer, Peggy Tuttle of Foster Design Collaborative. The cover photo was the preference of Dot Larrabee, who expressed in a final wish that she wanted it included. The photo was taken by Nate Somers, who combined three drone photos to make his wish come true.
The remarkable character of Otis Brickett, a subject broached by writer Patty Conly, struck me. I heard about Otis pretty soon after moving to Danville 42 years ago after he passed away. There was an event in town coming up, possibly the fair, and Toby Balivet shared with the group that he intended to make some Otis Brickett coleslaw to sell to the public. Everyone seemed to nod in agreement that making the coleslaw was an exceptional idea. This piqued my curiosity and I asked a few more questions about Otis. Besides his amazing coleslaw, I was told an interesting story about how he got rid of many local kids of their warts with his special healing ability. I saw pictures of Otis, and he looks interesting and nice, but I didn't get many details about him. Here in the book, however, I find it listed in nine different places in the index, two more entries than the National Bank of Caledonia. I'm sorry to say that the coleslaw recipe remains a secret.
In Chapter 24, titled "Power to the People", we find that Otis was hired at the hydroelectric plant by GMP (Green Mountain Power) in 1927 as an attendant. There are pictures of him in the layout as well as pictures of the power plant which was located at the exit of Joe's Pond.
The factory logbooks were kept and donated to the Historical Society, and Patty, the writer, used these books to share with us some of the daily signing notes he was to write at the end of each shift. Otis was a faithful writer. So we have his voice telling us what happened during his 40 years there. I felt a bit sad reading his last day signature dated Sunday, August 31, 1969:
"2:30 p.m. It feels good to have spent 40 years with this place, like being at home. I hope it will continue. Otis F. Brickett
Another pleasant surprise for me was the work the Joe's Pond Association has done over the years to keep the pond healthy. Chapter 21, titled "Joe's Pond Association," was researched and written by Jane Bolton Brown. It gave me a new respect for the organization which was formed in 1916. Not being a pond person myself, the association was associated in my mind with annual fireworks, but Jane enlightens readers to the time and attention the association has devoted to protecting the pond environment. This includes water levels, hazards, water quality, wildlife, wetlands, invasive species, etc. It is a voluntary organization that has done serious work in coordination with the state. This work and coordination focused on the natural beauty of the pond as well as a source of enjoyment for boaters, skiers, picnickers and anglers. Many visitors to the pond, whether local or far away, benefit from their care.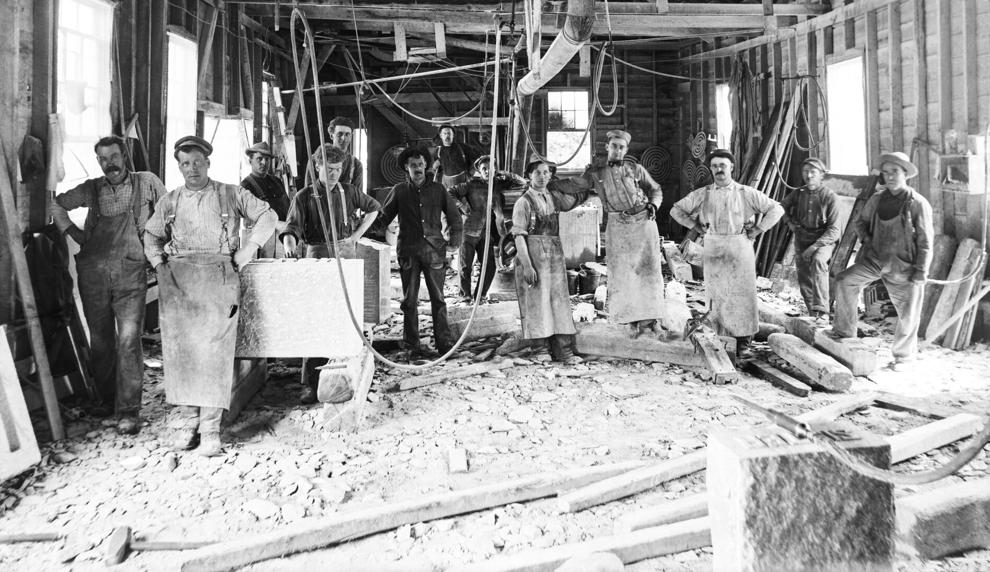 Among Dorothy "Dot" Ayer Larrabee's topics was Chapter 17, "Prohibition in Vermont". Since this issue was long before my time, I always thought of the subject in terms of movies I've seen on the subject with lots of wayward gunfire, hillbilly music, and car chases. I was surprised by the frank and dark tone that Dot gave in this chapter. She begins it with numerous newspaper articles about the pain caused by alcoholism in the community. Then she moves on to Frances Willard, president of the Woman's Christian Temperance Movement with ties to North Danville. Yes, she includes stories of some of the exciting and clever moments experienced by rum runners that could definitely make it into the movie, but the dark tone remained. She ends it by positively presenting the newly developed craft brewing in Vermont, highlighting Red Barn Brewing now open on Route 2.
When the story is shared well, it's not only entertaining, it's thought-provoking. The penultimate chapter, number 31, is titled "Death and Sickness." The chapter is an interesting read, no doubt, but it gave me a sad surprise. In my years of working with photos at the company, I have enjoyed a number of them showing sturdy young men working in the granite stone sheds. Men are often depicted in leather aprons with tools in their hands near a monument they are creating. "My God, how wonderful," I thought to myself as I entered the information and the photo into the computer. But this chapter burst my little bucolic bubble – these men often died young, in their twenties and thirties, from inhaling granite dust.
The 375 pages of this book are to be treasured. It's a local company with a professional result, written with deep commitment and love for our city. It sells for $45 a book.
The committee was commended when the Vermont Historical Society listed the book as a recent addition to the Vermont Historical Society library in its Winter/Spring 2022 edition of Vermont History, the journal of the Vermont Historical Society.