Whoever Invented Book Week Needs His Costumed Head To Read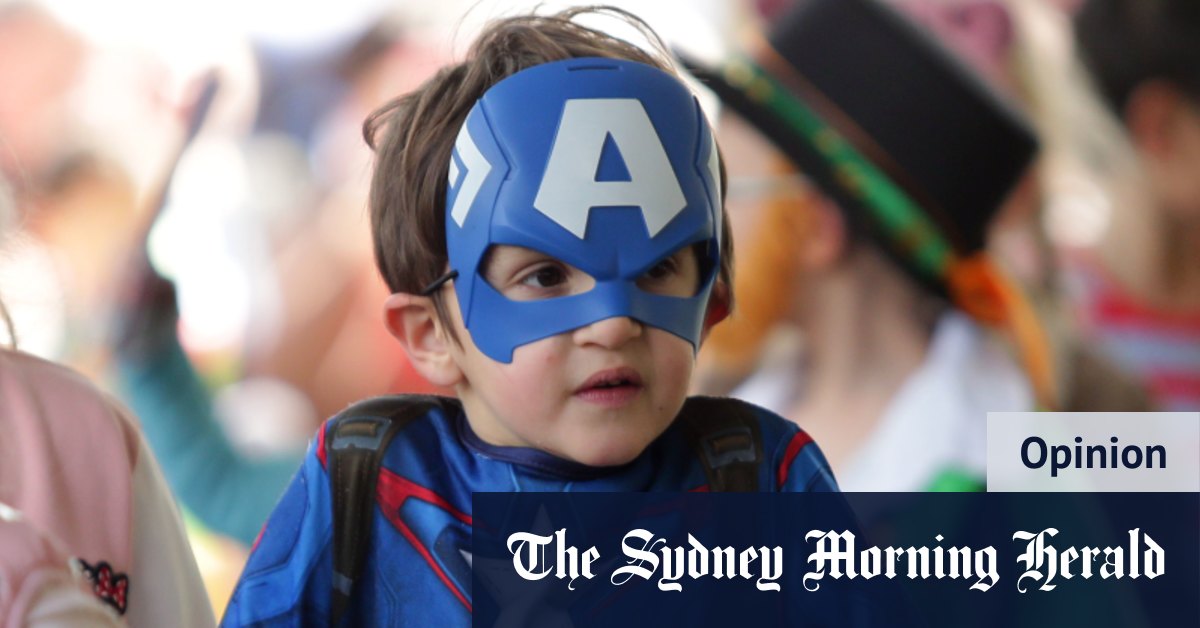 I hate book week. Passionately. Categorically. Without reservation.
I love books – this year I even became a published author – but I don't like the unnecessary angst and cost pressure it places on parents who are already short on time.
Before the librarians and parents who like to brag on social media about their smart and cute DIY costumes throw me sequin eye patches, hear me out. I'm all for finding ways to help our kids fall in love with books. I'm just not convinced that these costumes and consternation do much to encourage reading or improve literacy.
Book week is run by the Children's Book Council of Australia, which encourages libraries, schools and even child care centers to organize events to mark the week. It is the oldest national literacy initiative in the country.
In recent years, thanks to the competitiveness of social media and retailers capitalizing on parental guilt, I've observed that the week is much more about trying to keep up with Jones kids' outfits that are Met Gala quality and much less about about real books.
I know a lot of kids like to play dress up and any excuse not to wear the school uniform, but there are plenty of other days to do it. Cue Wear It Purple Day, Harmony Day, Pajama Day, Winter Woolies, and various other mufti fundraising days at a school's discretion.
Loading
You might think this rant is just because I can't sew and send my kids to school in shitty outfits with a warning to stay away from heaters. You are only partly right.
Two things can be true at the same time. As the burden on parents intensifies and dress standards increase, our children's literacy levels are moving in the opposite direction. There's a slew of research (probably about as big as most costume boxes rarely touched by children) that points to declining literacy rates in Australia.
A 2020 report found that a quarter of Australian children aged 11-12 lack the literacy skills they need to be successful in lifelong learning. The most reliable international tests of the educational performance of 15-year-olds in OECD countries show that Australia has steadily moved from the top group of nations to the middle of the pack. We went from fourth to 16th place in reading.
Ten years of NAPLAN data show improvements in years 3, 5, and 9, but that progress in reading stagnated dramatically between years 5 and 7 is even more serious.
Children in daycare centers in more disadvantaged areas spend half the time reading with educators than those in more affluent areas. We have yet to feel the full impact of lockdowns and remote learning on student literacy.
Of course, removing the week from the book alone won't solve all of these problems. It's not a fairy tale, after all.
It may be time to launch a new national literary tradition. Many traditions start with a legitimate purpose, but we have to ask ourselves if they are still valid and having the desired impact.
The time and energy parents spend jamming and talking would be better spent discussing ways to cultivate their children's love of books and characters, or volunteering for classroom reading groups. .
I much prefer WhatsApp discussions about creative ways to read with our children in their younger years and to exchange ideas on how to keep their interest as they become independent readers.
Loading
Leave the extravagant costumes to the Met Gala red carpet.
Antoinette Lattouf is a journalist, author, co-host of The Briefing podcast and co-founder of Media Diversity Australia.

The Opinion Bulletin is a weekly summary of viewpoints that will challenge, defend and inform your own. register here.